Wild Ride brings together the fiddle of Bob Tracey, the piano and fiddle of Holly Norton and the mandolin, banjo and guitar of Robbie Thomas to produce a dance band with an exciting, driving and superbly danceable sound that is built on a foundation of decades of combined experience of playing for dancers.
Combining the groove and drive of American contra music with infectious tunes from the American, Scottish, Irish traditions and, when the dancing demands, the English tradition and the elegant strains of the Playford and pre-Playford canon, Wild Ride bring an exhilarating and rewarding experience to both dancers and listeners.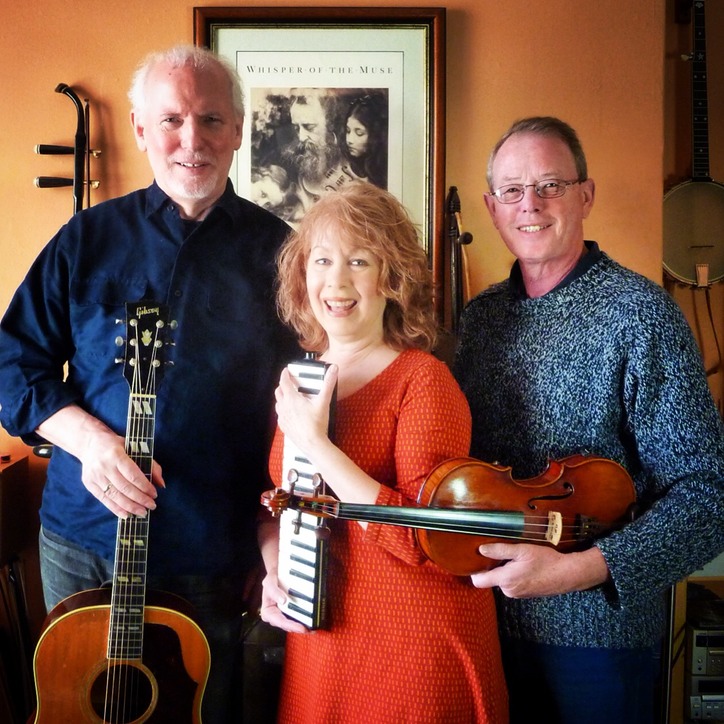 Bob Tracey (fiddle) has been playing traditional Irish, Scottish and American fiddle music since 1970.  A qualified traditional teacher of Irish music with Comhaltas Ceoltóirí Éireann, Bob has taught over 200 young people to play and was a competitor in the All Ireland fiddle and band competitions through the 1970's and 1980's.
In 1984 Bob formed Contraflow with Robbie (guitar) and Pippa Sandford (anglo concertina). The trio played for dancing for around 12 years until Bob joined Fiddlin' Around with Brian Stone (fiddle), Andrew King (bass) and Malcolm Cole (guitar). Fiddlin' Around played fat many major UK folk festivals and contradances before retiring in December 2007.
Since Fiddlin' Around Bob has concentrated on Old Time American music with Essex-based East Creek Union, although he did find time in 2012 to join Holly and Robbie for a short tour in France before founding Wild Ride with them in 2015.
Holly (piano, fiddle) trained as a pianist and violinist in her native Texas, where she also developed a love for American old-time and bluegrass fiddle music. Since moving to the UK in 1992, Holly has added Scottish, Irish and Scandinavian traditional music to her repertoire. Her interest in early music has led Holly to delve into traditional English tunes and to explore the dance music of the Playford and pre-Playford eras.
Holly was a founding member of both Cruise Control and Stick Shift, and her driving, rock-solid piano playing powered those bands at contra dances, workshops and festivals in England and abroad. Before she sat down behind her piano, Holly had also worked as an American line-dance caller, instructor and performer, featuring regularly on television and at festivals throughout the UK and Europe. When she isn't playing music, Holly organises conferences for the sports industry in far-flung parts of the world, and posts pictures of exotic cocktails on her Facebook page!
Robbie (Bob) Thomas (guitar, mandolin, banjo) grew up on a diet of Scottish and Irish traditional music and song before discovering American old-time music, blues and the electric guitar in his teens.  He was a founding member of the ground-breaking Scottish folk band Silly Wizard, appearing regularly on radio and television and playing at clubs, concerts and festivals throughout the UK and Europe in the 1970's. 
For the past 40-odd years Robbie has concentrated on playing for dancing, including spells not only with Bob and Pippa Sandford in Contraflow and with Appalachian cloggers Hot Taps, but also time well spent on electric guitar with e-ceilidh rockers Stömp.
Playing for contra dancing allows Robbie to indulge in all his musical influences and instruments - including the banjo. A founding member of both Cruise Control and Stick Shift, in which his distinctive, backbeat-laced guitar style powered dance floors both in England and abroad, Robbie can often be found trawling the web for yet another vintage instrument that he hopes Holly won't find out about just yet.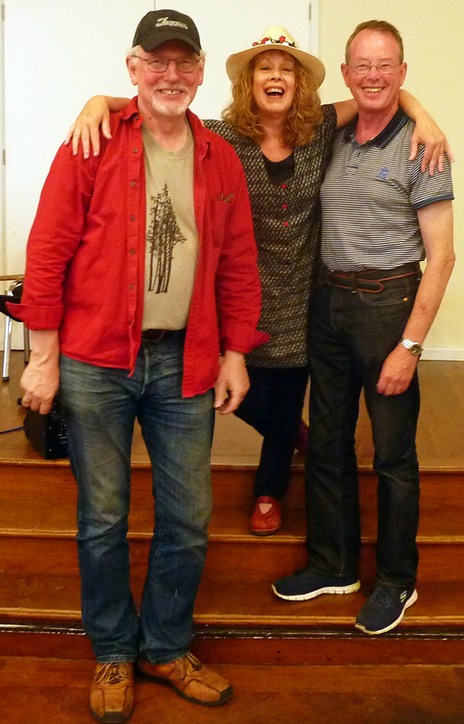 Equipment
Wild Ride carry their own PA equipment which is comprised of twin Bose L1 MKII systems, JBL EON10 G2 monitors, AKG microphones and QSC Touchmix (digital) and Mackie Onyx 1640 (analogue) mixing consoles.
Bob plays a Sonic Violins electro-acoustic fiddle fitted with a DPA 4009 microphone.
Holly plays a Kurzweil PC88 piano, an 18th century fiddle that she found at Horslips fiddler Charles O'Connor's antique shop in Whitby and a Tim Phillips octave fiddle. Holly uses a Pure Acoustic fiddle pickup and an Accusound fiddle microphone.

Robbie plays a custom Collings C10 Deluxe, Mike Vanden mandolins and a Vega Tubaphone No.3 5-string banjo fitted with a reproduction neck by Dave Stacey. Robbie uses K&K Trinity and Trance Audio Amulet pickup systems, AKG C416 and DPA 4009 microphones, Grace "Felix" preamplifiers and Elixer Phosphor Bronze Nanoweb guitar, mandolin and banjo strings.